10 Best Temporary Email Services of 2020
Today we'll go over an in depth review of the 10 best temporary email services of 2020 based on July search engine results for the keyword "Temporary Email".
FakerMail, the site you are on, offers instant, unlimited Temporary Email for no cost without registration. I chose not to add our service on this list because I felt it would seem a bit biased.
That said, I do believe FakerMail offers a great service, and I'm not just saying that because I'm the creator either.
So without further ado, let's go over the Top 10 Best Temp Mail Services (based on search results) of 2020!
ThrowAwayMail.com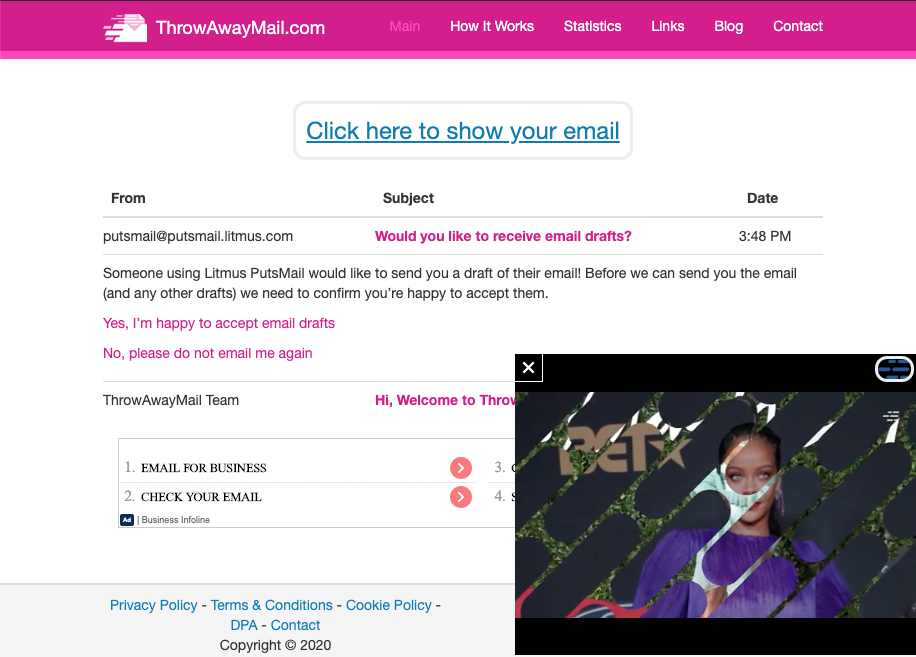 Initial thoughts
ThrowAwayMail.com ranks as one of the top Google results for temporary email and disposable email services, and since I don't have any real metric to rank which are best other than which seem to be ranking well on Google, I've included it.
I know all of that sounds bad, mean, or whatever, but the truth is the site looks like it might have been a side project that was never finished, yet somehow ranked well.
User experience
The user experience and overall feel and flow of the ThrowAwayMail website is pretty bad.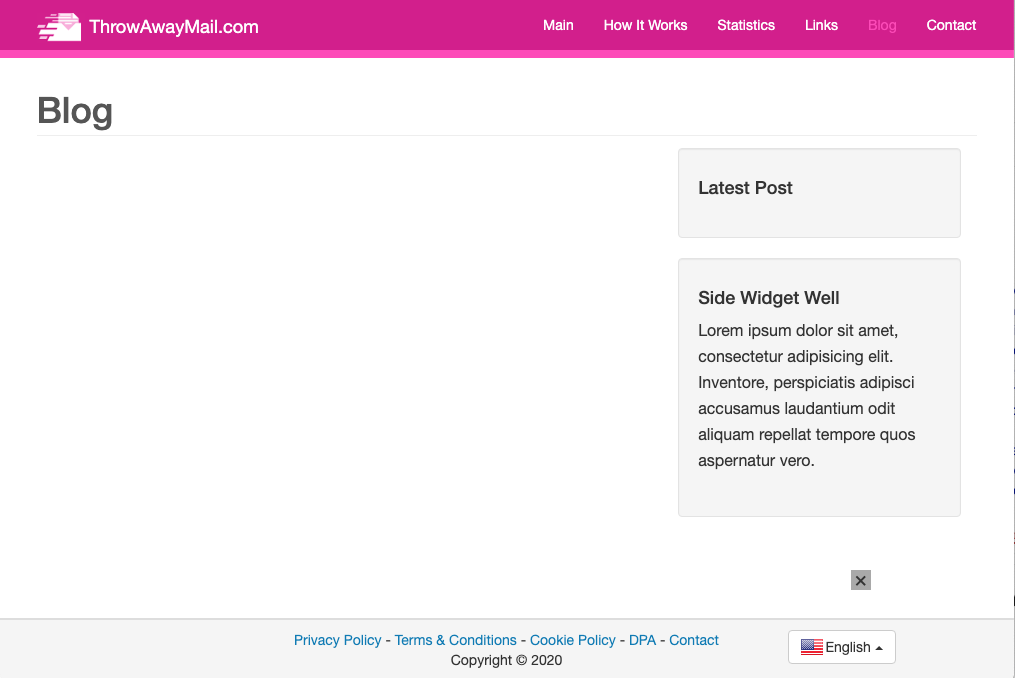 The interface could use a serious overhaul, and the blog section seems to be a complete work in progress. The messages are placed inline with the inbox itself in a way that makes them hard to read.
Performance
Aside from the visual flaws on the site, the site itself loads fairly fast. Not as fast as most on this list, but fast enough to not walk away from. Incoming emails are received in a perfectly acceptable time frame as well.
Advertised email lifespan
The advertised lifespan of a Throw Away Mail seems to be 48 hours. While I haven't tested this, I'd imagine it's probably accurate.
Premium service
ThrowAwayMail.com does not offer any premium services. At least none are advertised on their website.
Available apps
ThrowAwayMail.com does not offer browser extensions or mobile apps.
Pros
Works as advertised
The main pro here is that ThrowAwayMail.com seems to receive emails to a temporary email address the way they say it should...
Domain Pool is Higher than Some
The domain pool (address domains generated) seems to be higher than some of the more popular sites on this list. This helps when it comes to blacklisting.
Cons
Site Design
The site needs a major overhaul. Almost to the point where it is unusable. While it does work, it's pretty much the exact opposite of user friendly.
Captcha
I had to solve a few captchas just to use and browse my inbox. Super annoying in my opinion but might not bother others as much.
Final thoughts
While I probably wouldn't use ThrowAwayMail as my go to temporary email service, I would definitely keep it around due to the fact that is might work on sites that are blacklisted due to the somewhat decent pool of domain names. The captcha and overall site layout itself holds it back though in my opinion.
---
Temp Mail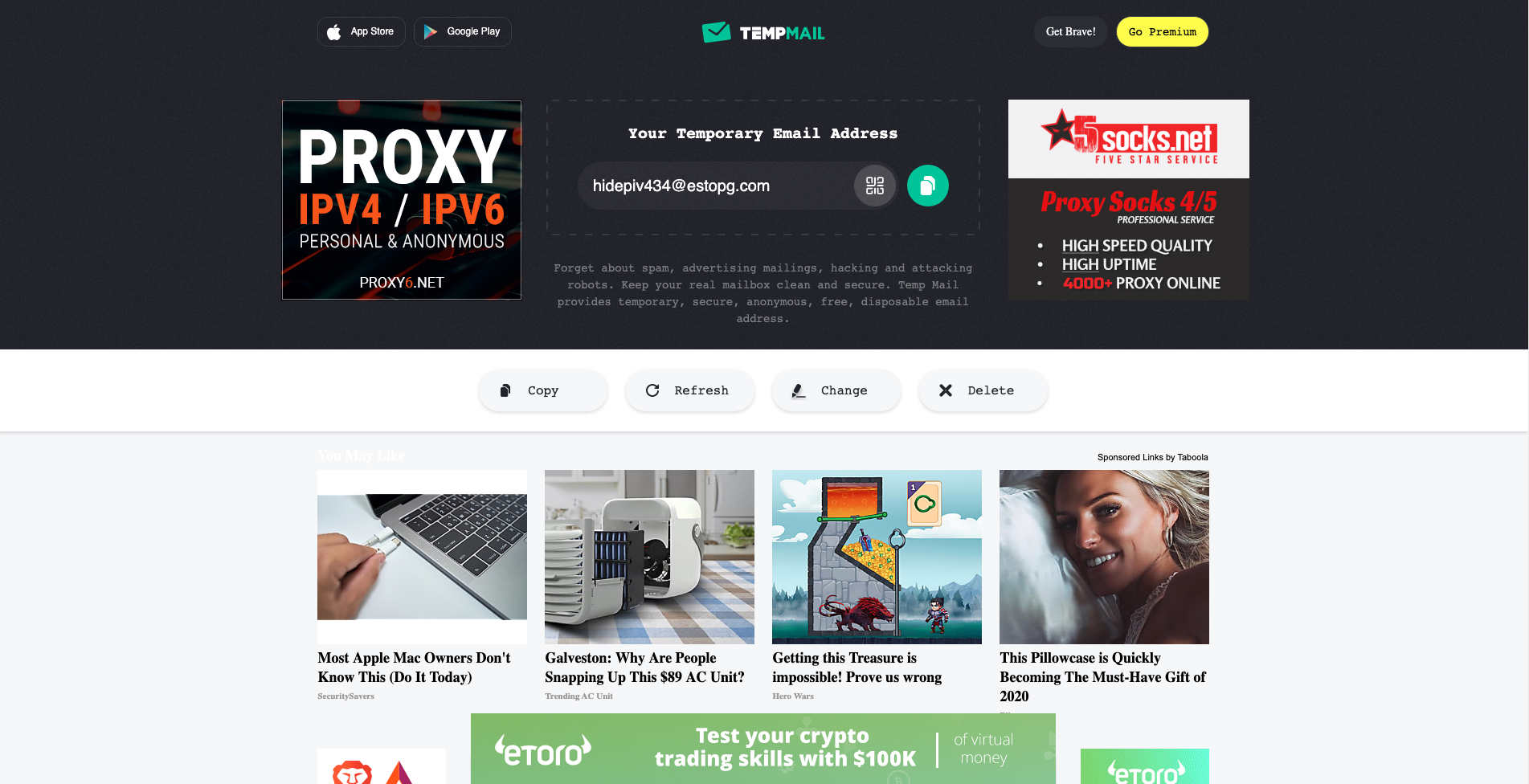 https://temp-mail.org
Initial thoughts
If you've ever googled temporary email, chances are you've seen Temp Mail. At the time of writing this article, they are the first result on my side, thus easily making the top 10.
User experience
The user interface and site layout of Temp Mail is clean, and easy to understand. Users should be able to quickly understand exactly what the site is, and how to use it.
Performance
As I write this article, for whatever reason Temp Mail seems to running really slow. The website itself is taking between 25 - 50 seconds to load for me.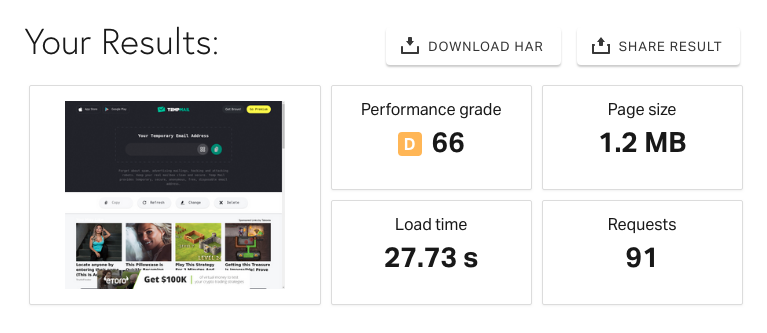 I've used this service in the past, and I don't really recall every having loading issues like I've had for the past week or so.
Advertised email lifespan
Temp Mail does not advertise the lifespan other than giving a somewhat cryptic message in their FAQ:

"Email address is valid until you delete it or until the service changes the domain list. Extending time is not needed."
I don't fully understand what this means as far as changing the domain list...
Does it mean when the domain expires?
When the website refreshes the list?
Honestly, I'm just not sure.
What I do know is I've seen some of my emails stay for a few hours, and I've seen them stay for a few days.
Long story short, if you care about leaving any emails behind that a user might potentially stumble across, just make sure you manually delete your emails.
Premium service
Temp Mail offers a premium service they call TempMail Premium which offers the following features:
100% Private email addresses with full control and ownership
Multiple mailboxes/addresses with simultaneous usage
Access to a special list of premium domains
Extended storage time for email messages
Seamless cross-platform functionality
Mobile apps with Premium for Android or iOS
Full synchronization between Desktop/Web and Mobile
No ads on desktop and mobile
Premium support service
Bring your own private domain. Coming soon
Send, reply, and forward to real email. Coming soon
Automatic rules and webhooks combined with a new robust API. Coming soon
Collaborative inboxes for teams and organizations. Coming soon
and more
I have not purchased Temp Mail premium, so it wouldn't be fair to review if these features are worth the price or not.
Available apps
Temp Mail offers browser extensions and both iOS and Android apps.
Pros
Easy to use, quick to understand The ease of use and overall clean layout (with adblocker enabled) puts Temp Mail towards the top of the list when it comes to user experience. It shouldn't take you any time at all to quickly figure out exactly how to use Temp Mail.
Browser and Mobile Integration Temp Mail integrates nicely with Chrome, Firefox, Opera and Safari Web browsers and has both an iOS and Android app in the App store and on Google Play. They definitely cover pretty much every option here.
Good Domain Rotation Temp Mail seems to have a large pool of rotating domain names which will help when it comes to blacklists. Out of the 10 domains I tried only 3 were known blacklisted domain names.
QR Codes The QR Code feature is pretty slick. If you're on your desktop computer, and you want to access your Temp Mail inbox, you can click the QR Code button on the site, snap a pic of it on a supported mobile device, and it will open that inbox on your device. I've never used it in practice but when I tried it, it worked.
Cons
Grab your adblocker, boys, we're going in!
Temp Mail has tons of Ads. Everywhere. Not only do ads completely cover Temp Mail from head to toe, they also infiltrate the inbox as well.
I usually wouldn't consider advertising a con, as I run many "free" websites and fully understand the need to run ads to generate income for site costs. My issue here is the deceptive tactics used by trying to fool me into thinking I received legitimate emails when I didn't.
What I mean by this is Temp Mail creates fake email advertisements in javascript and puts them in your inbox automatically as ads.
These are designed to look like real emails, so naturally they generate clicks, and some were a bit risque to say the least.
You can see what I mean by either disabling your ad blocker for a bit, or by inspecting the javascript files on the site. Annoying.
Site Speed Currently the site is very slow for me and has been for the past week or so. I don't know if they are getting DDoS'd, or if they just got too popular for their servers to handle, but things are running at a snails pace. I'll keep an eye on it and update this if/when things get better.
Final thoughts
When the site is operating at its normal speed, and I have my ad-blocker enabled, I think Temp Mail is a solid service. The browser extensions and mobile integration is a nice touch as well for users who might want these options.
---
Guerrilla Mail
https://guerrillamail.com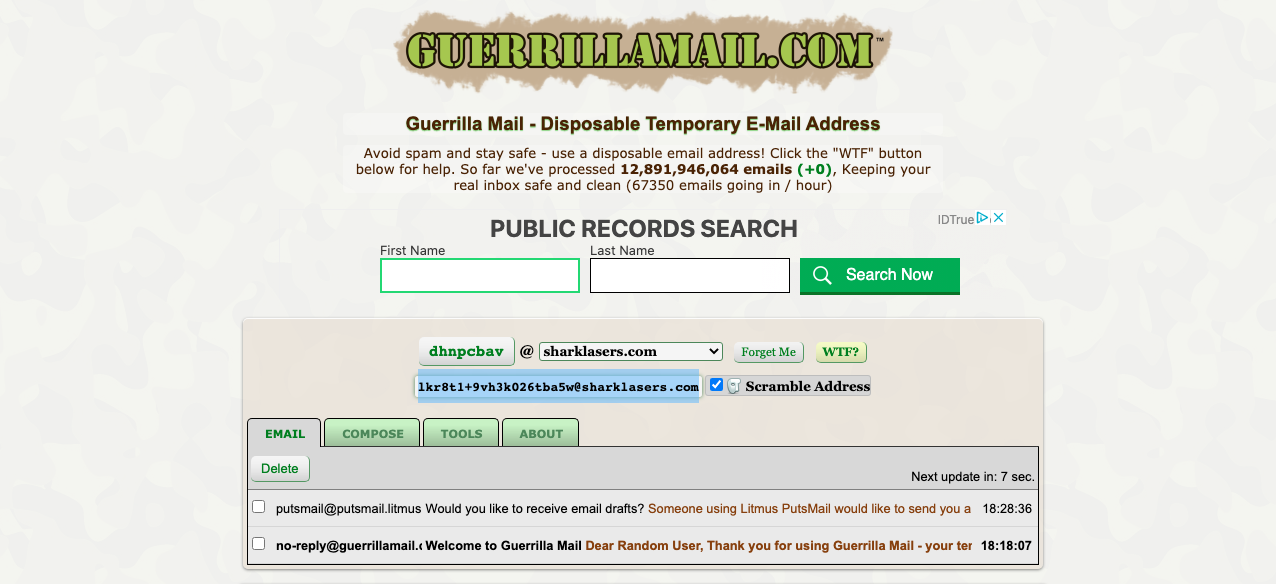 Next we have the classic disposable temporary email service, Guerrilla Mail
Initial thoughts
Guerrilla Mail has been around for a while, and the website shows it. I don't mean this in a bad way, but in a sort of "nostalgic" way that just works great. It gives you that sort of hackerman feeling like you are a super cool guy doing super cool stuff.
User experience
Immediately we are dropped to our inbox, and it's clear as day what the purpose of the site is. We have all the features we'd expect from a temp mail service and even a fun "WTF?" button that explains things a bit more for us when we push it.
What really helps set Guerrilla Mail apart is the fact that they offer the ability to compose email. Super great for those users who are looking to send temporary email as well as receive it. You can also even reply to email received via your temporary email address. Pretty swell.
Performance
As expected, Guerrilla Mail runs smooth like butter and received all emails in the normal time-frame I'd expect from a disposable email service.
Advertised email lifespan
The lifespan and flow of an incoming Guerrilla Mail email is a bit more unique than other temp mail services. In a nutshell, emails last about an hour, but a bit more of an explaination can be found in their FAQ which can be seen in this secreenshot:

Premium service
Guerrilla Mail doesn't seem to offer any premium services on their website. That said, they offer a lot of great features for absolutely free without trying to squeeze the users wallet any.
Available apps
Guerrilla Mail offers a browser extension, but I had no luck finding a mobile app other than what seemed to be an old Android app that has since been removed.
Pros
Compose and Reply The ability to send and receive temporary email is great. Being able to reply from your inbox can also be very handy at times.
Scramble Address Users have the ability to scramble their Guerrilla Mail email address to help keep it "private" when they share it with a user who might be smart enough to go to the site and paste it in, thus getting access to their inbox.
Cons
Blacklisted Guerrilla Mail has been using the same domain names for as long as I can remember. Years and years of the same small domain pool has pretty much put Guerrilla Mail on every temporary email blacklist known to man. If there is one service that is sure to be blacklisted, it's probably Guerrilla Mail.
Final thoughts
Guerrilla Mail is a great service, especially if you have the need to send temp mail. The ability to scramble your address is neat also. The fact that it is blacklisted a lot of places I've tried to use it is the only real downsite in my opinion to what is otherwise a solid, classic temp mail service.
---
Tempail
Initial thoughts
Tempail is a twist on the popular temp mail, perhaps missing a specific letter, but like temp mail, tempail has a slick and easy to understand user interface. You are greeted with your temporary email address and an auto-refreshing temporary inbox that waits for incoming emails. Like temp mail there is also a QR code option that you can use on your mobile device to pull up your inbox automatically by snapping a photo on a compatible device.
User experience
Tempail has a nice interface that is easy to understand and navigate. I'd put it up there on the top of the scale as far as user experience goes. After toying around for a bit I did get met with a Captcha which was kind of annoying, but is understandable considering.
Performance
The website performs as expected with no noticeable lag, and my test emails were received within minutes of being sent which is good.
Advertised email lifespan
Tempail advertises on their website that all temporary email addresses expire after 1 hour of use.

While I have not tested this yet, and I will soon, I'd imagine that it is accurate enough.
Premium service
There are no Tempail Premium services that I can find.
Available apps
I wasn't able to find a Tempail Browser Extension or a Tempail Mobile App anywhere on the site or in any of the stores.
Pros
User Friendly
One of my favorite things about Tempail is the look and feel of it. Very similar to temp mail in a sense that you know exactly what is going on at first glance. No clutter, nothing in your way, just pure, unadulterated disposable email at your fingertips.
QR Code
The QR code feature is pretty slick. Grab your device, snap a pic and BOOM, there's your inbox. Little additions like this help Tempail stand above other competitors.
Cons
Captcha
While nowhere near as bad as others on the list, I still had to solve a few captchas while I was using my temp address. I just really hate having to "Select all Bananas" on those things.
Not Customizable
I was not able to find a way to change my email address. What you get is what you get. Now to some, this might be fine, but when you compare it with other services that allow you to change your actual email account name, such as whatever-i-want@domain.com, I'd have to mark this down as a con.
Not Reusable
Similar to the above con, the fact that users can't change their email address to whatever it is they want, they can never re-use it, or get comfortable with it. They can never go back to it assuming they need to for example in a "Forgot my password" situation.
Final thoughts
I think Tempail definitely ranks up there as far as one of the top 10 temporary disposable email services available. Its got the feel and flow that puts a smile on my face and does exactly what I'd expect out of a temp mail service.
---
Email Generator
https://generator.email

Initial thoughts
Email Generator is a temporary email service that stands out a bit in a few ways. One being the fact that you can bring your own domain names, which is an interesting twist to the disposable email world.
User experience
Email Generator follows the traditional looking approach to temporary email services in a sense that you know what to expect at first glance. You get to the site, see your email address, use it and then go to your inbox to read any incoming messages.
A few key features that stand out are the audio and browser notifications that you can enable. These are great for those that enjoy audio and visual notifications of incoming mail.
A few annoyances were the super spammy ads placed all over the inbox making it hard to know what was a part of my email message and what was one of those crappy fake ads that make it look like they are supposed to be a part of the user interface but actually aren't. Ad-block fixed this for me, but I start all of my reviews with it turned off to get a feel for the site assuming someone might not use an ad blocker.
Performance
Everything is on par here. Site speed is solid, and my test emails came through in a perfectly acceptable time-frame.
Advertised email lifespan
Email Generator seems to lean towards the more permanent side of temporary as far as email lifespan.
Their site describes the lifespan as basically, "when we delete the domain name we'll delete your inbox" type of thing.
This could be super handy for those looking for a more permanent temporary email address (if that's a thing?). If you are looking for something truly disposable though you might want to look elsewhere or just make sure to manually delete your emails when you are done. Assuming of course they contain anything of value to someone else that might stumble across them.
Rolling your own domain name seems to make your temporary email inbox a completely permanent solution as well which might be a handy feature for some folk.
Premium service
Email Generator doesn't seem to offer any premium services from what I can tell.
Available apps
Email Generator doesn't seem to have browser extensions nor mobile apps just yet.
Pros
Bring Your Own Domain
The ability to bring your own domain for no cost is a pretty cool feature for those who want to go that route. By registering your own domain name and making a few DNS changes you can use your own domain name directly on the site itself. Each inbox will then be generated using your domain name, for example, random-generated@mycustomdomain.com.
Audio and Visual Notifications
Since Email Generator doesn't seem to have a browser extension, it's nice to be able to enable sound and visual notifications to at least notify me when I get an email without having to stare at the website until my message comes through.
Large Domain Pool
Email Generator can generate what seems to be a pretty large pool of random domain names around the world. This is a nice feature, but sadly most of them are blacklisted as you'll learn about in the con below.
Cons
Blacklisted
I was surprised to test out 20 random addresses, all with 20 different domain names (it's real easy to change them with the dropdown) only to find out that ALL 20 domain names were blacklisted on the site I tried registering with.
My guess is the age of the domain names, and the lack of rotating fresh ones has landed the vast majority of Email Generators domain names on the most common temporary email blacklists on the internet. Very unfortunate for those trying to register on sites that protect against throw away email addresses.
Final thoughts
There's no doubt that Email Generator ranks, especially with the ability to roll your own domain name. It's a cool feature if you dig that kind of thing, and they offer it for free. The sheer amount of domains that are blacklisted is a bummer, but honestly unless you're trying to register on a site that protects against temporary email addresses, you'll probably be just fine with Email Generator.
---
Fakemail.net
https://fakemail.net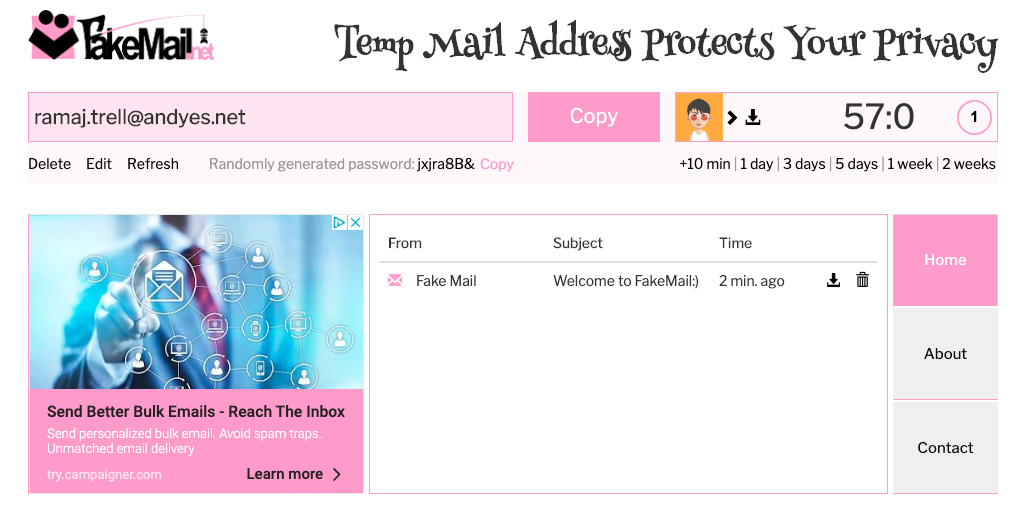 Fakemail.net, not to be confused with FakerMail.com, is another high ranking temp mail service we will review.
Initial thoughts
Fakemail.net has been around for a bit, it has a pretty recognizable pink frontend that will catch your eye.
When visiting, you're greeted with a ready to use email address that you can copy and paste where you see fit.
User experience
The inbox resembles your typical temporary email inbox that you would be comfortable with, albeit a little crowded feeling. Advertisements seem to be pretty well-placed and not distracting either which is a plus for those not using ad-blockers. The overall design of the site is pretty straight forward for temporary email services, although i feel it could be a bit more polished with a bit of work.
Performance
The site loads fine and emails come in at the speed I was expecting. Nothing to report here other than that.
Advertised email lifespan
One of the unique features of Fakemail.net is their email lifespan. Users can choose to keep their email anywhere between 1 hour and 2 weeks before it automatically deletes itself.
The site features a timer for your inbox that counts down in real-time the remaining time left before everything's disposed of. You can click options to add more time such as, +10min, +1day, +1week, etc. A fun feature for those who are looking for a less disposable, disposable email service.
Premium service
No premium services seem to be offered by Fakemail.net
Available apps
Fakemail.net does not seem to offer any browser extensions or mobile applications at this time.
Pros
The ability to add time to your emails could very well be what some users are looking for. While temporary mail is generally a throw-away situation, this feature might be exactly what some people are looking for.
Cons
Blacklisted / Guessable
Fakemail.net seems to offer one domain and one domain only, thus it's on most all blacklists.
Another issue with single domain temporary email services is that the chances of guessing another inbox name is pretty trivial. Inbox collision is common on sites that are single domain, so you might see someone else's email, or someone else might see yours if you both share the same username.
Final thoughts
Fakemail.net is a solid choice for users who are looking for a temporary, yet not so temporary inbox. The ability to keep the inbox around for up to two weeks before emails are auto-deleted helps Fakemail stand out a bit from the crowd. The site layout isn't the best and has a dated feel, strange buttons and an uncommon flow to it, but is still usable and seems to give exactly what is advertised.
---
EmailOnDeck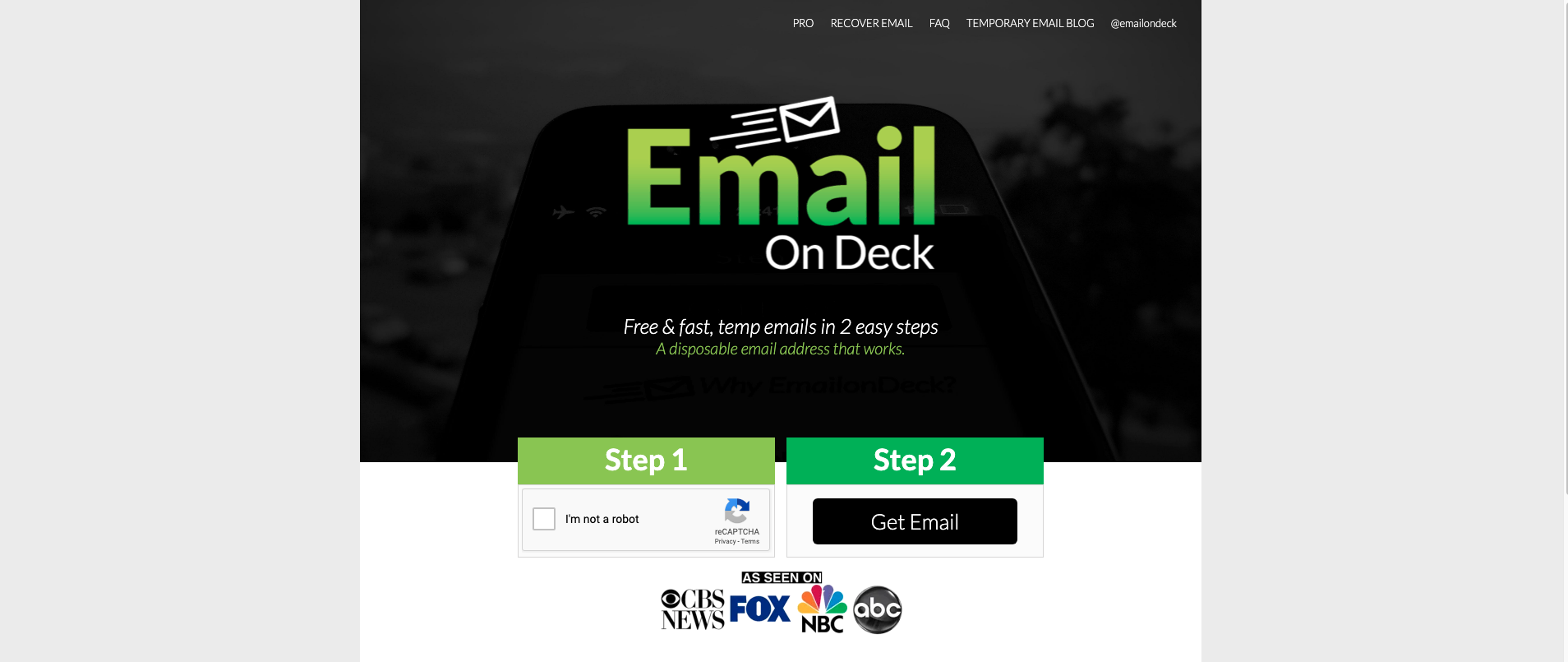 https://emailondeck.com
Initial thoughts
Next on the list is EmailOnDeck, another popular temporary email service.
EmailOnDeck
User experience
Performance
The website runs as expected and emails show up in my inbox at about the same time they would show up in any other inbox.
Advertised email lifespan
"There's not a precise time, usually it lasts most of the day. It should last more than an hour, but if you close out of your browser or clear your cookies you may lose access to it faster."
It seems EmailOnDeck doesn't really know exactly when the lifespan of an email might be. Expect your emails to last somewhere between "faster", "most of the day" and "more than an hour".
Premium service
For some bitcoin, you can purchase the Pro version of EmailOnDeck. Users get access to the following features after unlocking Pro:
Ad FREE
100+ emails at a time
Send Anonymous Emails
Custom Email Address
Save Email Addresses
Exclusive Domains
New Features First
Private Emails
Logs Securely Wiped
No Recurring Charges
In my opinion, the features offered in the Pro plan are just padding to help the list look a bit beefy. Most of them are offered free / common place with every other services in this article.
That said, the key item here is sending anonymous email. This feature alone could very well be worth the cost of the service for users who need to send email anonymously.
Available apps
From what I can tell, EmailOnDeck seems to only offer a website.
Pros
Fast The website loads fast, and my temporary emails came in just as quick as you would expect from any reliable permanent email service.
Does what it advertises Free, disposable temporary email just as advertised.
Cons
Limited Free Version The EmailOnDeck "Free" plan limits users to 1 email address at a time without the ability to customize or save your address. While this isn't a deal-breaker, when a lot of others are offering these features in their free plan, I have to consider this a con more than a pro.
Strange Recovery System If you clear your browser cache or aren't saving cookies such as private browsing or incognito mode you lose access to your Email on Deck address. In order to recover it you need a special token you have to save somewhere when you originally created the actual address. I find this system to be a bit of an extra step compared to other services that offer the ability to simply change your email address to whatever it is you want.
Captcha every time I access the site Having to solve a "Choose all the X" captcha is super annoying. When I need temporary email, I need it fast. Having to deal with that style captcha is not fast and really throws a wrench in my workflow. User mileage may vary, of course.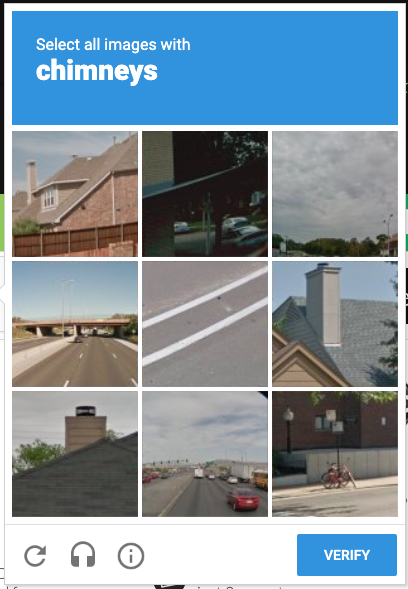 Blacklisted I tried generating 5 new addresses and got the same domain name 5 times in a row. This might be rare, but could also be a reason why all 5 temporary email addresses got kicked back when I tested signing up with a popular service. Without a large domain pool and domain name rotation, blacklisting is inevitable.
Outdated Interface The interface could use a face-lift as it seems like it's been a while since a redesign.
While not a deal-breaker, I do believe that with a bit of work to the website, Email on Deck would stand above the crowd a bit more.
Final thoughts
The constant need to solve a Captcha is a huge annoyance for me. Probably by far my number one gripe here.
The user interface itself could really use an update, but it isn't the worst out there by any means.
Most domains seem to be blacklisted due to slow domain rotation, but this is pretty common across the industry.
Other than that, EmailOnDeck seems to do exactly what they advertise. Free, disposable, temporary email.
---
Temp Mail (temp-mail.io)
https://temp-mail.io

Initial thoughts
Temp Mail (temp-mail.io), not to be confused with the other Temp Mail (temp-mail.org) adds a few unique twists to temporary email. The site is nicely designed and more modern than most disposable mail sites out there.
User experience
I really like the fact that they went a different route with the visual aspects of what you would normally see on most temporary email service websites. Your inbox is on the left, and your messages are on the right, very similar to a traditional permanent web based email client such as Outlook, Gmail, Yahoo!, etc.
The overall feel and flow of the site is nice and users should get comfortable fairly quickly. There are a few more advanced features on the site that might be confusing at first glance, especially for users who just want a quick, disposable email address and nothing more, but I truly think power users might find some of these features super great. I know I like them.
Performance
The site runs as expected as does the speed of all incoming test emails sent.
Advertised email lifespan
I wasn't able to find much advertised about the lifespan of an email on temp-mail, but I was able to find a snippet about it in their Privacy Policy.

It seems that _"All emails and data temporarily stored on our service are permanently deleted after 16 hours." which probably puts the lifespan of incoming emails at 16 hours or less, assuming the privacy policy is correct. I have not tested this yet.
Premium service
Temp-Mail offers their TempMail Plus package for a few bucks a month (currently $2.99) which will unleash the following features:
No ads
Up to 10 emails at the same time
30 days storage time for messages
Up to 500 history size limit
Premium domains
Cloud history sync
I have not used TempMail Plus, so I can't comment on the value of the service, but at that price it seems to be a nice value.
Available apps
TempMail offers a nice browser extension for every major web browser known to man, including Tor.
I was unable to find a TempMail mobile app for either iOS or Android.
Pros
Visually Pleasing
The site is self makes it seem like the person behind it cares. This goes a long way. The feel of it is familiar and it seems to just work.
Multiple Emails at Once
You're able to have two email inboxes at once which can be handy for people who are juggling temporary email accounts. Premium users can have even more.
Forwarder
Users can choose to forward a temporary email address to their real email address if they want to give out a temporary email address but receive the messages in their actual email inbox.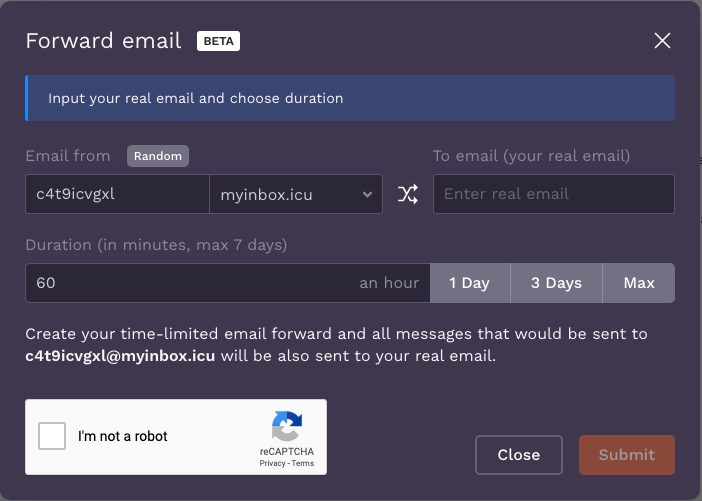 While this feature is great for some, I understand that it might be a con to others who are looking to stay anonymous and would rather not give out their actual email address. I felt it was a pro since it's optional for those who choose not to use it.
Email History
One of my favorite features of Temp-Mail is the "Emails history" feature.
This feature keeps a historical record of the past 50 email addresses you geneated on that device. Super handy if you forgot to keep track of an address or if you've accidentally clicked "Generate a new address" button.
Cons
Small Domain Pool / Blacklisted
Temp-Mail seems to have one of the smallest domain pools of the other temporary email services in the list. Unfortunately with a small domain pool and lack of rotation, you end up with a service which isn't usable everywhere.
Final thoughts
I think TempMail is a great service. The site is nice to look at, easy to use and has some features that are outside the box which is great. The domain forwarding feature could be very handy for some users as well as the ability to have more than one temporary email address going at once. For the price, the premium features seem to be a decent enough bargain if they tickle your fancy too.
---
Tempmailo
https://tempmailo.com
Initial thoughts
Let's review our next temp e-mail service, Tempmailo. At first glance, Tempmailo is pretty much exactly what we would expect from a temp-mail service provider. You receive your temporary email, your inbox is then shown on the home page, and you sit back and wait for your email tol roll in.
User experience
The user interface, while basic, is straight to the point. No frills mean nothing to take your eye off the ball. What you see is what you get.
Users don't seem to be able to set their actual username, but other than that everything seems to be pretty standard here.
Performance
Load times seem normal as well as email to inbox speed when I sent my test emails.
Advertised email lifespan
From what I can tell on the site, Tempmailo keeps your emails for up to two days.

Premium service
Tempmailo doesn't seem to advertise any premium services anywhere on their site.
Available apps
I looked around the Chrome web store with no luck, and the App store and on Google Play which both turned up nothing tied to Tempmailo which leads me to believe it's purely browser based.
Pros
Works
It works. That's about all I can really say for tempmailo. It receives emails to a temporary email address exactly like it describes it does and for that, it gets a thumbs up.
Cons
Small Domain Pool / Blacklisted
The domain pool on Tempmailo seems to be small. Small enough that I can't seem to generate an email address that doesn't get kicked back when I test it against a popular company.
Blacklisting isn't always an issue, especially if you just need a quick throw away address that happens to work right on the site you are using it on. It just so happens on the site I am testing on, it did not.
Not able to Change Username
Like i've mentioned before, the ability to change the username is very handy. Unfortunately Tempmailo doesn't allow it.
Final thoughts
I'd keep Tempmailo in my arsenal as the site does in fact work. While not the prettiest site on the internet, it's a totally usable solution if you need a quick, disposable email address.
---
10 Minute Mail
https://10minutemail.com
Initial thoughts
10 Minute Mail is a classic when it comes to temporary email. The concept behind 10 Minute Mail is pretty much explained in the name itself. You get an temp inbox that is available for 10 minutes. After that, it is deleted.
User experience
I feel like the idea behind 10 Minute Mail is exactly what is advertised. You see the huge (too huge?) count-down timer that shows how long you have until your inbox is destroyed. You have the ability to click "Get 10 more minutes" to keep that baby alive, which naturally adds 10 more minutes to the lifespan of your inbox.
Sadly, this seemed to be really random and I ran in to a few issues. You can see what I mean in the Cons section below.
Performance
The site ran fine and my emails came in just fine as expected. Nothing out of the ordinary to report here.
Advertised email lifespan
10 Minutes, which does make sense I guess.
You can choose to "Get 10 more minutes" by clicking the "Get 10 more minutes" button, but by deafault your inbox is gone after 10 minutes.
Premium service
10 Minute Mail doesn't seem to offer any pro or premium options.
Available apps
While I did find a few copy cat "10 Minute Email" extensions and apps, I couldn't find anything tied to the official 10minutemail.com website.
Pros
Timer Based
10 Minute Mail is perfect for those who like the timer based approach to their temp inbox. You basically push a button to give it a few more minutes. Now, this could also be considered a con since your email address itself is now gone, never to be seen again. But I'll consider it a pro here because if you are in to timer based temporary email, this will be a pro for you.
Cons
Site Could Use Work
The extremely large timer counting down is in the way. While I understand that it's important, I can't seem to take my eyes off of it.
Also, there are some strange CSS issues that aren't visually pleasing.

As you can see above, the site isn't the most visually pleasing and has a bit of design issues. Not a major problem, but enough to consider it a con.
Timer Issues
The idea behind the 10 minute timer is neat. You wait for it to hit zero and say goodbye to your emails. Although I seemed to have issues with this.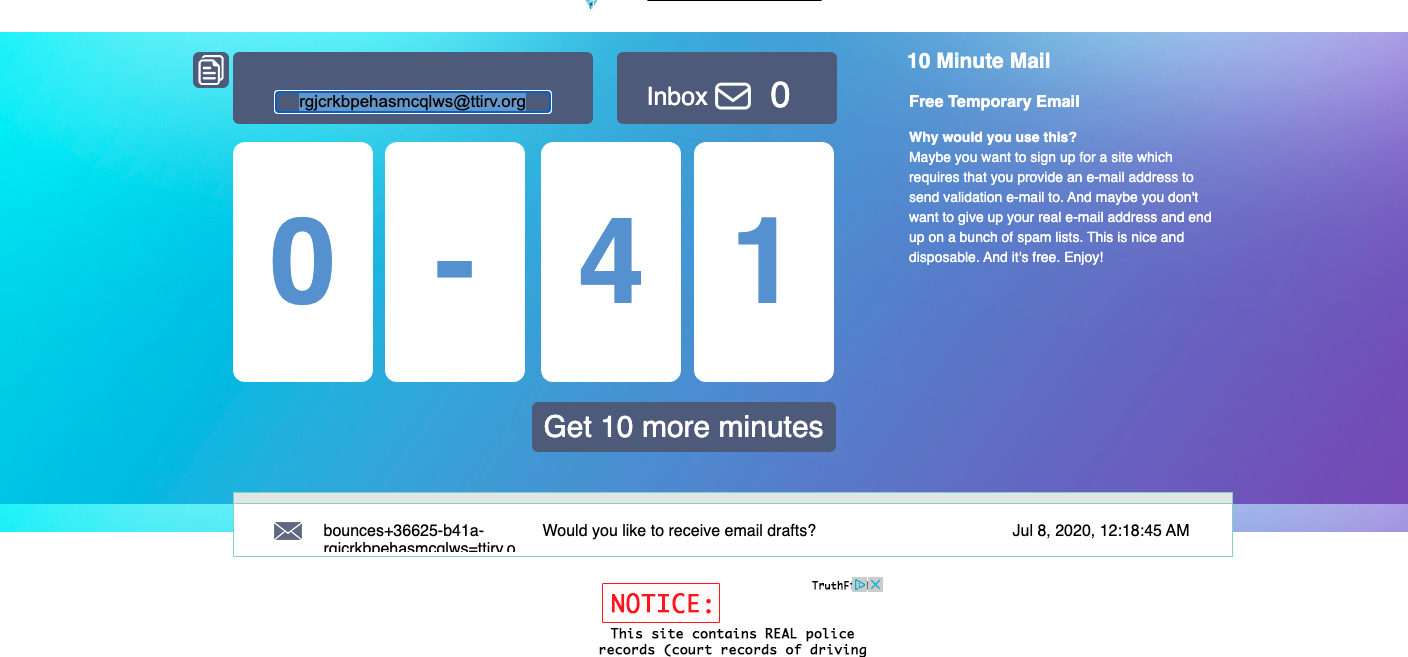 Some of my inboxes did get disposed after 10 minutes, but for some reason some of them were glitching out and giving me strange negatives after expiring. Maybe it was just me, but it seemed kind of jank.
Final thoughts
I think 10 Minute Mail is handy for those who like the excitement of clicking a button to add more time to the lifespan of their account, kind of like you're doing CPR on an account that you know is about to perish any minute now.
In my opinion, sometimes the click to extend options can be more trouble than they are worth. When you're looking for a longer term solution, having to constantly click a button to keep your email address alive can somewhat feel like it defeats the purpose of temporary.
That said, the site does what it says it does. Gives you a 10 minute email address that self-destructs when the timer hits 0. Well, assuming the timer works for you.